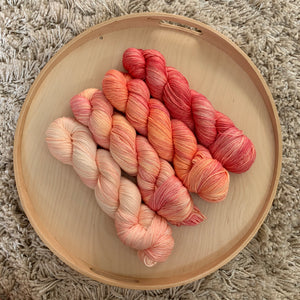 Silky Merino
---
50% Superwash Merino
50% Silk
100g / 400m (437yards)
Hand wash at up to 30 degrees
Our Silky Merino base consists of 50% Silk and 50% Superwash Merino. It is a beautiful, soft yarn with a great subtle sheen. It is ideal for shawls because of the silk content it creates a piece with beautiful drape. Each dyed skein is unique.
Even though fixed recipes are being used for each colourway, no two strands are 100% identical. That is why we highly recommend alternating two skeins of the same colourway on larger projects in order to achieve a more even knit and avoid colour pooling.
Even if it is a yarn with a superwash finish, we recommend washing the finished knitted piece by hand, carefully squeezing out excess water and letting it dry on a flat surface. This may take more time but it is much more gentle on the fibers and therefore your finished piece and its colours will last much longer. After every dye process the yarn is carefully washed to make sure that there is no excess colour left in the yarn but some colours (especially red, orange, pink and purple) are still prone to bleed when washed. This is why we also recommend that if you are planning on using a lighter colour with a darker or more intense colour to first knit up a swatch and wash it, to see if there is any bleeding of colours.
We try to reproduce the colours in the photos as accurately as possible. Please note that depending on the device you are using, the colours may be displayed slightly differently due to different screen settings.